If you've been curly hair, then you'll understand the struggle of trying to manage the frizz and tame your tresses– the best curl cream hair products do it all for you.
Those among us with naturally curly hair will know that it can be both a blessing and a curse. While it's a serious ego boost to be the envy of your straight-haired friends, preventing your waves from turning into a frizzy mess can be a real nightmare. Curl creams offer an easy way to style and maintain shiny, bouncy locks, so don't tear your hair out sifting through endless products, try a curl cream instead!
Top 10 best curl cream in UK 2021
In our article, we hope to convince you of the benefits of introducing a curl cream into your hair care routine, as well as explaining the best products for 2, 3, and 4 hair types and sharing the ingredients that will define and hydrate your curls. If you're looking for recommendations, we've also listed our top 10 curl creams to buy online from Amazon and eBay including those from DevaCurl, Tigi, Shea Moisture, and more!
1. Schwarzkopf Professional Hair and Scalp Care
Like your curl creams thicker to moisturize coarser curls? This offering from Schwarzkopf Pro uses nourishing jojoba seed oil to hydrate hair and therefore improves curl definition and texture. The whole suit of Mad About Curls range is ideal for type 3 curls and this cream is ideal for thicker strands – if you want something lighter you can opt for the Mad About Curls Light Whipped Foam.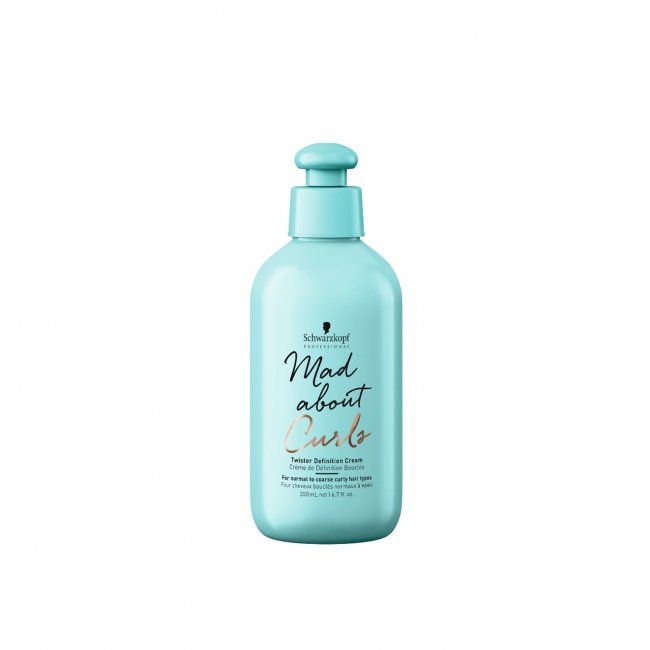 2. African Pride Shea Butter Leave-In Conditioner
A heavy-duty moisturising conditioner is essential for curly, wavy, coily hair, and this popular shea butter product from African Pride does a good job hydrating, detangling, smoothing and adding plenty of shine to curls.
For best results, use daily and enjoy as the compliments start flooding in.
3. Cantu Shea Butter Moisturizing Curl Activator Cream 
A sulfate-free, shea butter product that you can apply to damp hair and scrunch up to the style, Cantu has a cult following among the curly-haired.
It manages to moisturize locks, define curls and leave hair looking shiny.
Fans love that it's "affordable and effective" and "marvelous for frizzy hair," with one declaring: "I'm in love with this product! I have naturally curly and dry hair and this product saves my day every time I use it.
"I use it on damp hair (just a tiny amount is sufficient) and then simply dry it. The result is amazing: my hair is hydrated, soft, and maintains the style all day! Highly recommended."
4. Curl La La Defining Curl Custard
Aunt Jackie's incredibly versatile Curl La La Defining Curl Custard can be used on wet or dry hair and is suitable for use with heat styling tools. Use this curl cream to set your style after washing or for reviving limp hair. The highly absorbent formula means you can use as much or as little as you need without it caking or drying and flaking.
While type 2s with loose wavy hair probably won't get a lot out of this product, we recommend the Curl La La Defining Curl Custard for type 3s and 4s with tight curls looking for an all-purpose leave-in conditioner and styling cream.
5. Curls Twist N Shout Glaze Cream
A classic protective style for natural hair, twist-outs can be hard to achieve without the right products to help. That's where this curl cream comes in. Its formula delivers the perfect combo of definition, hydration, and shine—plus, it's free of sulfates, silicones, parabens, artificial oils, colors, and fragrances. To style, apply it to clean wet hair, twist your strands, allow your hair to dry, undo the twists, and voilà.
Proanthocyanidins, the plant chemical found in blueberries, interacts with hair follicles to accelerate growth and slow down hair graying and loss.
Blueberries, rich in vitamin C and B complex are good for increasing hair growth by improving oxygenation and circulation of blood in the body, particularly the scalp.
Prevents hair breakage, too little Vitamin C in your diet can lead to hair breakage.
6. TGIN Twist and Define Cream
Twist and Define Cream is a long time favorite of many naturals and for good reason! Not only does tgin's Twist and Define Cream effortlessly define curls it also provides moisture to dry and thirsty hair! This curl defining superstar works with the loosest to tightest of curls while adding moisture, shine and definition! Find out why we absolutely adore tgin's Twist and Define Cream for natural hair!
Coconut oil and vitamin E oil are two of the main ingredients in this curl definer. Coconut oil penetrates deep into the hair shaft while partnering with vitamin E oil to ensure that curls are not just defined but also well moisturized. The coconut oil and vitamin E oil also work together to add a beautiful shine to curls.
Twist outs, braid outs, twists and wash n go's are a few of the styles that go perfect with this curl defining cream. You don't have to use a ton of product to receive a soft beautiful hold and long lasting curl. Our Daily Butter Cream for Natural hair also works great with this product.
Flakes,crunchy hair and the dreaded white, brown or black residue that many curl definers leave is not a problem with this magnificent curl definer. The ingredients in the curl definer work with your hair to provide flake free curls!
Say goodbye to frizz, fly aways and unruly hair. The Twist and Define Cream provides hold while leaving curls soft, defined and beautiful. Frizz is greatly reduced and fly aways don't stand a chance when up against this creamy curl definer.
Dry thirsty strands get rejuvenated with the rich ingredients in this magnificent product. Instead of drying the strands out like many curl definers do tgin's Twist and Define cream adds moisture back into the hair leaving it more defined and quenched and shiny.
7. Foxy Curls Contour Cream
Tigi Bed Head Foxy Curls Contour Cream is a great option when it comes to styling. This curl cream provides a medium hold without leaving hair feeling sticky or heavy. Best of all, the anti-humidity formula stops your 'do from turning frizzy on even the dampest of days!
This curl cream offers heat protection making it suitable for use with a diffuser and other heat styling tools. If you prefer to let your hair air dry, Tigi's Foxy Curls Contour Cream also works as a second-day style extender to freshen up your curls and redefine shape.
Control your curls and fight the frizz.
Support factor: 2-3

Controls frizz

Encourages and supports curls

Resists humidity

Adds shine
8. R+Co Turntable Curl Defining Creme
Coconut oil? Tick. Flax seed, chia seed, rice protein? Tick, tick, tick. Yes, all ingredients that you might find in a post-spin class smoothie but also the ingredient in this cream that'll keep your curls hella smooth and healthy. Apply to damp curls and the flax seed extract will help to strengthen hair, the rice protein locks in moisture, while the coconut oil and chia seed extract are a treat for your scalp so apply this one from root to tip (not mid lengths some curl creams) for the added benefits.
Keep the curls spinning with TURNTABLE Curl Defining Crème by R+Co. This lightweight, curl-defining creme blocks humidity and is infused with coconut and olive oil for moisture and shine. 
9. Amazing Dream Curls Cream Gel
A Curl Cream Gel With a Powerful 48 Hour Hold
If you're looking for a styling product that provides powerful hold, check out Twisted Sista Amazing Dream Curls Cream Gel. A fusion that combines the benefits of a curl cream and a gel, this product keeps curls in place for up to 48 hours while infusing moisture from coconut, avocado and almond oil.
A great choice for those with wavy curl textures, type 2s and 3s and individuals with thin or fine hair looking to prevent frizz and add definition. Bear in mind that this product is more styling gel than it is nourishing cream, so it's less suited for use as a leave-in conditioner and may be too harsh for dry or brittle hair.
10. Supercream Coconut Curl Styler Hair Cream
This high-end all-in-one curl cream may carry a premium price tag, but for those willing to spend a bit more DevaCurl Supercream Coconut Curl Styler hair Cream is certainly worth it. With only a tiny amount, this product detangles, defines, calms frizz, moisturizes, and strengthens.
This curl cream has a myriad of different applications. For use on wet, dry or damp hair, apply it just out the shower or use it to fluff up second or third-day curls. If it's the volume you're after, glide the product through your hair and shake at the root or try with a diffuser for added oomph!
CONCLUSION
There are a few things you can do to get rid of the frizz and get well-defined curls.
First, make sure you keep your hair well- moisturized.
Curls that are too dry will never achieve the same definition as well moisturized ones.
Try to set aside some time weekly to do a regular hydrating treatment or masque, once or twice a week.
Another tip is to start styling your curls while they are still wet straight after you had a shower. Start with a leave-in conditioner to control your hair and seal in moisture before you begin the rest styling process.
Finally, make sure you use a diffuser when drying your hair. It can help even out your curl pattern and boost the volume of heavy curls, giving more body to your hair.